Automotive Cybersecurity
Global automotive industry is undergoing a paradigm shift
according to the CASE revolution.
With the recent development of connected cars, vulnerabilities are also increasing as the number, importance,
and complexity of the software applied to vehicles increases.
Hackers attempt to attack by identifying weak connection points between components.
As most of the vehicles nowadays are equipped with various connectivity functions such as smartphone apps, Bluetooth, infotainment, and digital keys,
awareness of automotive cybersecurity continues to increase.
As automotive cybersecurity threats may lead to safety problems for drivers, passengers, and pedestrians, preparations for
cybersecurity attacks are required in the era of autonomous-driving.
In the future, where hacking is fundamentally blocked with vehicle "vaccines," cybersecurity will become a new standard for determining the quality of the vehicle.
* Connected, Autonomous, Shared/Service, Electric
Modern Cars are
VuInerable to Hacking
Telematics
Connectivity (Wireless, Wired)
ADAS
V2X
Infotainment
Mobile Device
Key Fob Hacking
Personal Data
OBD-ll Hacking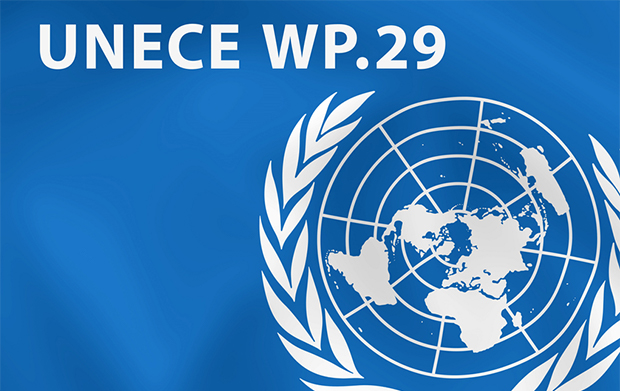 Automotive Cybersecurity related Regulations are
being adopted worldwide.
In June 2020, the United Nations Economic Commission for Europe (UNECE) announced the new regulation. The Automotive Cybersecurity Management System (UNR 155/CSMS) mandates that the vehicles shall be equipped with a system that can cope with cyberattacks, and the Automotive Software Update Management System (UNR156, SUMS) mandates that the software of the vehicles shall be managed systematically.
These regulations apply to passenger cars and commercial vehicles (vans, trucks, buses). These new regulations will be mandatory for all new vehicle types from July 2022 and will become mandatory for all new vehicles produced from July 2024.
58 countries (Contracting Parties) who signed for the regulation adoption such as EU, the Republic of Korea and Japan, etc. accounts for more than one third of global vehicle production. As it is prohibited from selling its vehicles in the European market if these regulations are not applied, to lead the global market, automotive cybersecurity is essentially required.
* UNR No.155 : Cyber Security Management System, CSMS
* UNR No.156 : Software Update and Software Updates Management System, SUMS
Well-prepared company with all the capabilities
required for

Automotive Cybersecurity
Deep understanding of OEM cybersecurity requirements through knowledge and project experience
Composed of top-tier automotive ECU developers & white hacker group
Proven reliability, comply with standards & obtained global certification (A-SPICE Lv2 & FIPS 140-2)
Fast support by operating teams customized for each customer
FAST™ HSM

Real-time abnormality detection and protection cybersecurity solution for vehicle ECU
Cybersecurity Testing

Systematic and Variety of testing by In-house Red team

TARA

Derive cybersecurity goal & new requirements with systematic analysis method

Cybersecurity Engineering

Provide services for the entire product development process (Development, Design, Implementation, Integration, Validation)

CSMS Consulting

Provides consulting to efficiently establish CSMS using practical guide & template