As cybersecurity threats to controllers inside a vehicle increase, OEMs are specifying their requirements for cybersecurity function application.
To raise the cybersecurity level of the controller, application of HSM cybersecurity solution is mandatory, and stability, performance, cost, after service ease shall all be
considered for selecting the HSM cybersecurity solution.
For OEM's Cybersecurity feature requirements,
how and what solutions should we apply?
OEMs ask for cybersecurity solution but I don't know what to do.

It's difficult to select semiconductor chip that supports HSM.

The cybersecurity solution cost is a burden, and engineering support is slow.

Engineering support after SOP is also a burden.
Ensure reliability with the solution that has been embedded to
40+ different controllers.
FESCARO developed HSM solution

A-SPICE (Automotive SW dev. process & Quality Evaluation) LV2 certified
US government(NIST)'s crypto algorithm related FIPS 140-2 certified
Cryptographic library (FAST™ CLIB) implemented by crypto algorithm
Compatible to various global automotive semiconductors
(8 Manufacturers, approx. 46 models & continuous support for new chips)
Immediate response is available if new request & update after production is required

Satisfy requirement of International regulation(UNR 155) &
Automotive OEM

Cybersecurity application (Secure Access, Secure Boot, Secure Flash, Run-time Tuning Protection, Secure Storage, Secure Unlock, Memory Protection, etc.)
Offer solution optimized for each chip property & chip environment

Applied to production for ICV/BEV of
a Global Automotive OEM

Applied to 41 type mass produced controllers
Reliability ensured with various references
Protect your controller with professional cryptographic algorithms
and Cybersecurity features.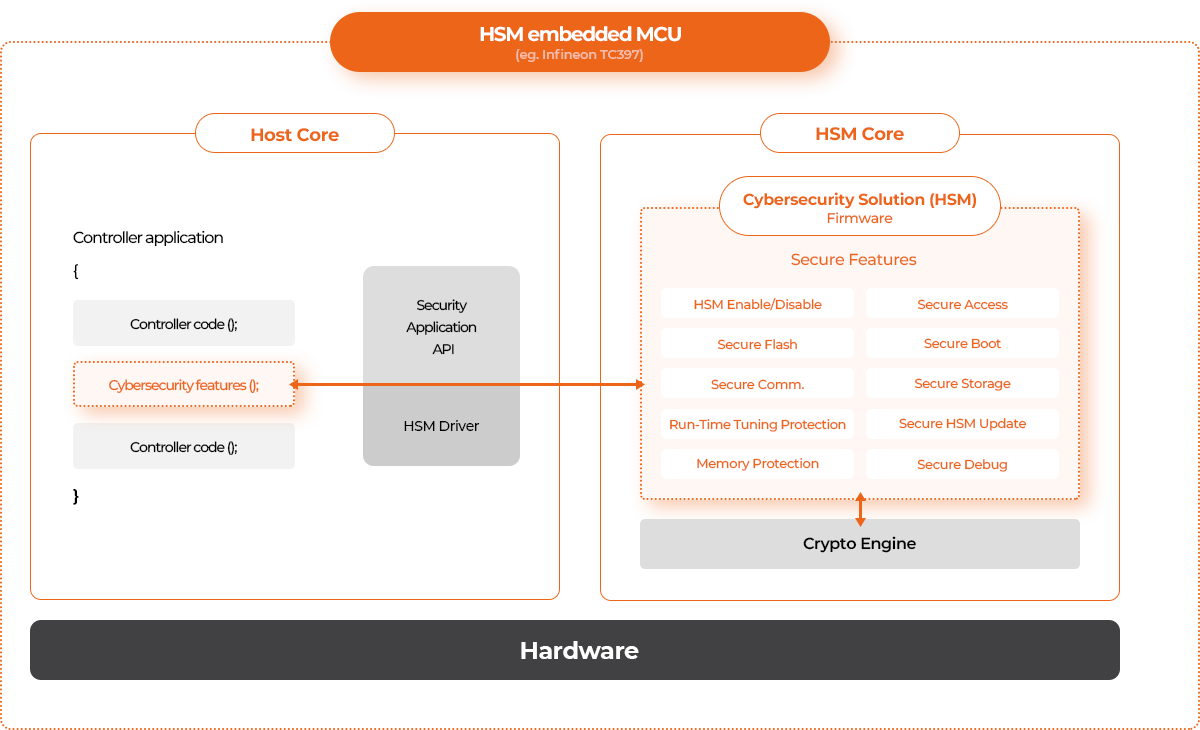 Algorithms
HW Acce: Support HSM EVITA Medium/Full in MCU
HW Acce: Support HSM EVITA Full in MCU
Algorithms 테이블 입니다.
Algorithms
Specification
Support
AES
Supported Key Sizes: 128 / 192 bit
Supported Modes: ECB, CBC, CTR, GCM, XTS
Support both
SW Lib, 

HW Acce.

MAC
AES-CMAC, HMAC-SHA2
Support both
SW Lib, 

HW Acce. (CMAC Only)

 
Random Number Generator
NDRNG: TRNG
DRBG: Hash-DRBG, HMAC-DRBG
Support both
SW Lib, 

HW Acce

Hash
SHA-256, SHA-512
Support both
SW Lib, 

HW Acce

RSA
Moduli: 1024 / 2048 bit
Fast decryption with CRT
Key Generation
Support SW Lib
ECDSA
Moduli: 256 bit
ECDSA signature generation/verification
Support both
SW Lib, 

HW Acce

Diffie-Hellman Key Agreement
dhEphem with KDF
Support SW Lib
PKCS#1
OAEP / PSS / PKCS#1-V1_5
Support SW Lib
Certificate
X.509 parser including a DER parser
Support SW Lib
Use Cases
Use Cases 테이블 입니다.

| Application | Contents |
| --- | --- |
| HSM Enable/Disable | Activation / De-Activation of HSM Function |
| Secure Access | Certificate based Seed & Key authentication process |
| Secure Flash | Secure firmware update by certificate based electronic-signature verification |
| Secure Boot | Minimization of boot time by HW-AES based CMAC verification |
| Secure Communication | Verification of communication message integrity through addition of MAC and counter value |
| Secure Storage | Secure storage for cryptographic key, certificate, log, and etc. |
| Run-Time Tuning Protection | Real-time search for any illegal change of operating firmware |
| Secure HSM Update | Secure HSM firmware update |
| Memory Protection | Protection for writing / reading of flash memory |
| Secure Debug | Debugging interface access control |